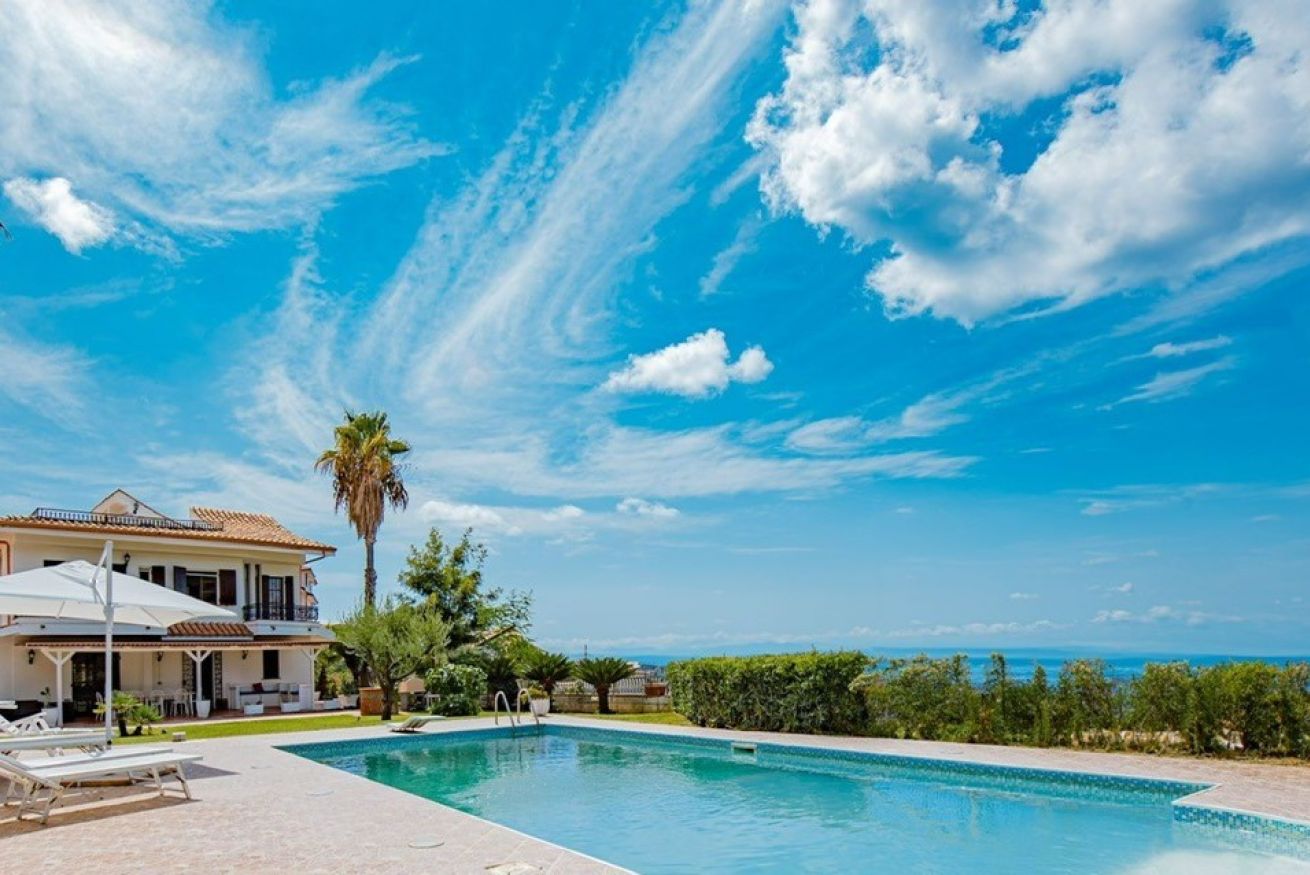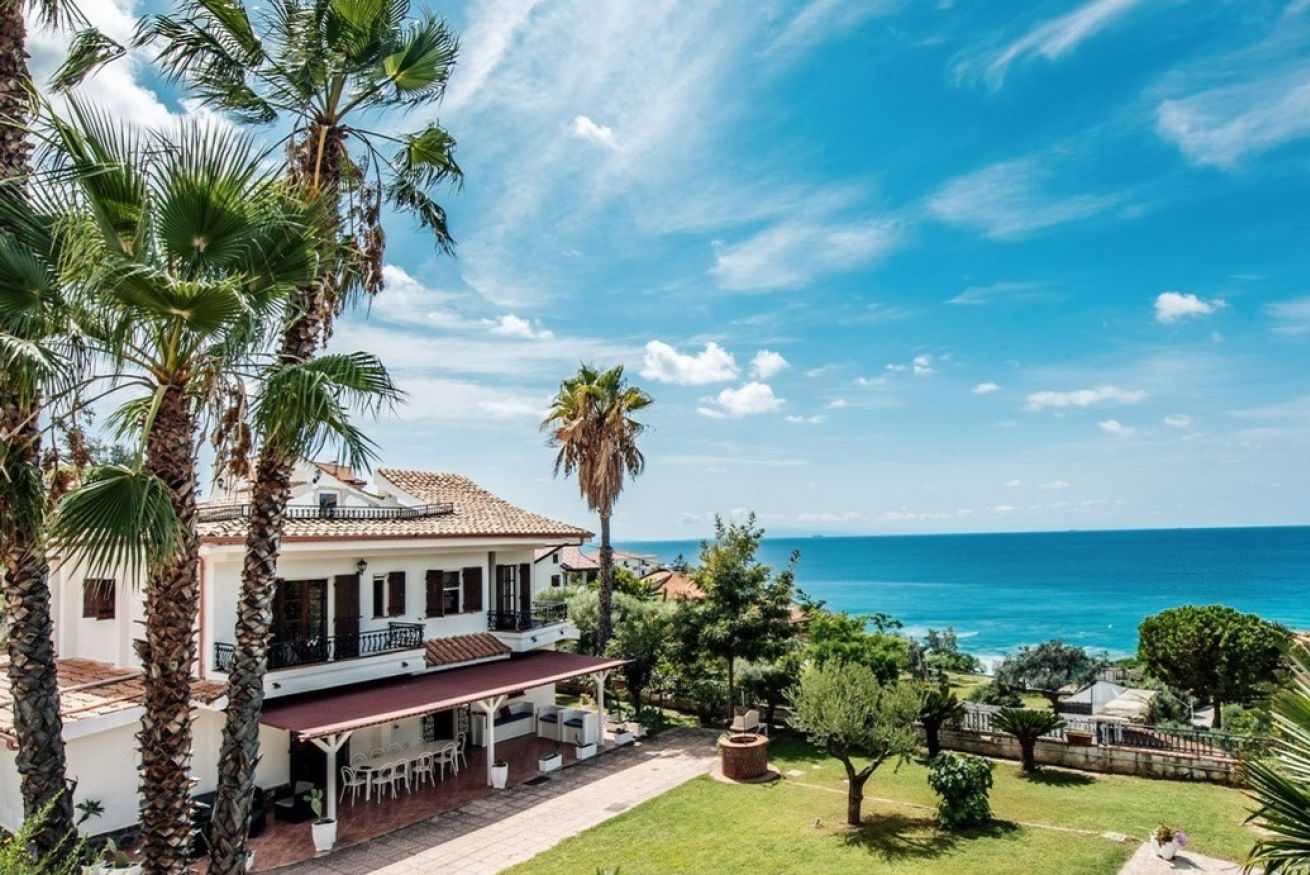 Villa Anna
Villa

- Loc. Santa Maria - Ricadi - Capo Vaticano
Description
Large holiday villa for 10/13 people with private swimming pool and near the beach.
Villa Anna is a beautiful detached villa recently renovated with private pool and sea view near the famous beach of Santa Maria di Ricadi, Capo Vaticano only a few km from Tropea.
This villa is ideal for a large family or a group of friends looking for a house near the seaside, which is a few minutes away on foot.

The house is on two floors. The ground floor consists of a large living room with fireplace, sitting area and a large kitchen with a four-burner stove, refrigerator and dishwasher. There is a double bedroom and a bathroom with shower.
A wooden staircase in the living room leads to the first floor where there are 4 bedrooms: 3 double bedrooms and 1 with a French double bed. There are 2 bathrooms, one is en-suite with shower and the other has a bathtub. On the first floor, there is also balcony with a view of the sea.
Villa Anna has also an extra room in the attic with 2 single beds and a bathroom with toilet and sink. The room is equipped with air conditioning and the access is from an external staircase, you need to reserve this room at the reservation.

Villa Anna has a large garden and a covered porch with table, chairs and a comfortable living room. The swimming pool with sun beds and deck chairs along with the spacious garden make this villa the ideal place to spend your beach holiday.
Swimming pool is open from 8/4 till 31/10.

Nearby:
bars, shops and restaurants 350 m, beach 350 m, Tropea 10 km, Lamezia Terme Airport 70 km
Features
Check-in: 15:00 - 18:59
Check-out: 10:00
Standard occupancy: 12
Max occupancy: 12
Amenities
Extra person charge for rollaway use
Self-controlled heating/cooling system
Location
Loc. Santa Maria - Ricadi - Capo Vaticano
Reviews (10)
We were 9 and had a great week at this villa. The pool area and pool house is where we hung out most of the time. Close to many beaches and Tropea. I would recommend for a large group that wants to relax and enjoy the Calabria weather by the pool. The communication with Francesca and Mimmo was great, very responsive when we called
---
: Ottima posizione, 10 minuti a piedi dalla spiaggia. Bellissima vista dalla villa. Piscina e giardino stupendi, con tavoli grandi da pranzo, cucina e doccia, tutto comodissimo. La casa è come descrita con una sala bella grande e vista mare. Eravamo in 13, adulti e bambini, e siamo stati benissimo.
---
Zauberhafte Villa mit atemberaubenden Grundstück. Alles sehr großzügig. Kontakt super nett und unkompliziert. Preis Leistung ist unschlagbar! Kommen gerne wieder!
---
Io e i miei amici ci siamo sentiti molto a nostro agio. Purtroppo il tempo non è stato dei migliori, ma nessuno può farci niente. È stato ancora più bello che ci sia stato messo a disposizione un tavolo da ping pong. Lo abbiamo usato molto e ci siamo divertiti molto. Possiamo solo raccomandare la Villa Anna. Il contatto con Francesca è stato molto piacevole in ogni momento e siamo sempre stati aiutati rapidamente e molto bene per qualsiasi domanda. La vista sul mare era meravigliosa. Molte grazie per tutto
---
: We came down to Calabria to celebrate my 50th birthday in the region where my grandmother came from. We had friends and family fly in from America and we loved our time together at Villa Anna. The owner, Tina connected me with a yoga instructor named Suelen, she came 3 mornings during our week long stay to give us a yoga class next to the pool (see photos). We also had Rosella and Carmela come and cook us an amazing regional dinner on my actual birthday. Again, Tina arranged all of this for us. We loved every minute of our stay. We had a few minor issues with the hot water and the heat which was quickly fixed by Mimmo. He also came after it rained and cleaned the pool. They treated us like royalty and we loved it. The hardest part is the garbage. Buy large clear plastic bags and bag everything accordingly. The trash schedule is hanging on the refrigerator. Put the appropriate items down at the main street the night before. Once we got it all figured out we didn't have a problem.
---
Wir haben eine sehr schöne Woche in der Villa Anna verbracht. Die Verständigung war sehr gut und die gesamte Abwicklung sehr unkompliziert.
---
We had a great week in Villa Anna with friends and family. The house is very spacious with many different spaces for dining and relaxing, both inside and outside. The pool area is fantastic and includes an outdoor kitchen and bar, and shower room. The beds were comfortable and bedrooms were cool with air conditioning. It is a short, if rather steep, walk to the beach which is nice for swimming and there are a few bars and restaurants. We tended to go to bigger beaches a short drive away. All in all a lovely stay
---
Natasha Deiter
2022-07-06
"Villa Anna was absolutely lovely! The views from the back patio/pool area are stunning. You can see Stromboli volcano out in the distance and on a clear night might have the opportunity to see the eruptions! The pool was wonderful, nice and big with a diving board and lots of areas to lounge around it. The umbrellas and chairs out by the pool were great. There is a nice big table outside for big family dinner which we enjoyed. The bedrooms were great for our group. The three smallest kits slept in the bunk room downstairs and the rest of us had nice spacious rooms upstairs. The villa is clean and the kitchen is fairly well equipped. There is a full bathroom downstairs near the living room/bunk room and there is a full bathroom upstairs that the 3 bedrooms share (and one of the bedrooms also has a small half bath with no shower). Outside by the pool there is a great bathroom with a big shower room with 3 separate shower heads which worked out perfectly for us with the little kids as they could all just shower easily at the same time. We did send a note to management about a few potential improvements such as better labeling on the trash cans (all trash must be separated into different bags/bins and put out on the main street on different days and we found the system confusing. Later in the trip we stayed in some other accommodations that had a better labeling system in Italian and English so that was much more clear and easy to manage). But overall, the villa was wonderful and we enjoyed our time very much. The management group was also very responsive and helpful and they helped us to arrange many things. They organized 2 ladies to come and cook for us 2 of the nights we were there. The ladies were WONDERFUL! Can't recommend them enough. The same ladies also babysat for us one night and were so thoughtful with the kids (they brought pizzas to cook for the kids and popcorn for a movie night). The kids loved it! We miss those lovely Italian mamas already! The management team also arranged a great boat trip along the coast for us. A day we enjoyed very much sailing along and snorkeling in the coast of the gods! Management will also provide big water bottles for the dispenser in the kitchen and were also responsive to us when we were running low and needing another delivery. As for the area, Santa Maria is a cute little beach town with a few nice restaurants and the main beach in walking distance of the villa. Note though that it is a very steep walk down the hill to the main area. Probably not an issue for most, but we had a few young children and our 70 year old mother with us so we ended up driving down most of the time as the hill would have been difficult for them to manage. You are within about 5 min drive of beautiful Grotticelle beach in Capo Vaticano and about 20 mins to Tropea. One night we visited a local winery call Cantina Masicei, which is about 20 mins from the villa. It was a gorgeous setting in a vineyard overlooking the sea and the wines were delicious. Highly recommended. We truly loved our stay and are missing Italy and Calabria very much already!"
---
Casa molto bella e spaziosa, con 5 comode camere da letto.Ma ciò che abbiamo apprezzato di più sono stati gli spazi esterni, molto curati.Bella la piscina e in particolare la cucina/angolo bar che si trova all'esterno, nuovissima e molto utile in estate. Casa pulitissima e personale molto accogliente e sempre super disponibile. A piedi si raggiunge non solo la spiaggia ma anche dei ristoranti di pesce dove si mangia molto bene. Bellissime le spiagge e la vicina Tropea è molto caratteristica.Dall'inizio alla fine abbiamo trascorso una vacanza indimenticabile!
---
Un superbe endroit Maison très spacieuse, agréable Accueil et service vraiment parfait
---